Ceramic Tile in Cincinnati, OH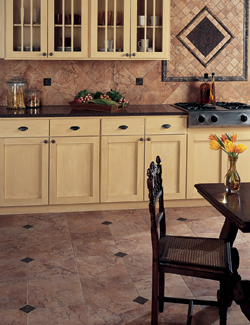 Does the flooring in your residence look dated or dingy? Ready to replace it with flooring that's easy to clean and durable? Buddy's Flooring America has the perfect type of flooring for you: ceramic tile! Cincinnati residents love our vast selection of ceramic tile flooring. You'll be sure to find flooring that will look beautiful in your house. Whether your home decor is modern and sleek or traditional and ornate, you can count on our polite sales associates to help you find something that suits your style.


Unmatched Versatility
Do you want a new countertop or backsplash in your bathroom or kitchen? Ceramic tile is not just for flooring; it can also be used as a counter or wall covering. At Buddy's Flooring America, we sell ceramic tile in a wide variety of sizes and a rainbow of colors, including bold, bright hues and earth tones.

High-quality Installation
In addition to selling a wide range of flooring, we have a seasoned team of installation professionals at Buddy's Flooring America. Our Cincinnati ceramic tile floor installation is budget friendly and ensures your new flooring will last as long as possible. At Buddy's Flooring America, we also offer all-inclusive warranties to guarantee customer satisfaction.
Want to learn more about our ceramic tile products or have a question about our warranties and installation services? Call our store now at <PHONE> to consult with one of our sales experts!



We proudly serve the communities of Cincinnati, Northern Kentucky, Florence (Kentucky), Fairfield, West Chester, Harrison, Mason, Blue Ash, Bridgetown, Anderson Township, Hamilton and Lawrenceburg (Indiana).