Luxurious Hardwood Flooring in Cincinnati, OH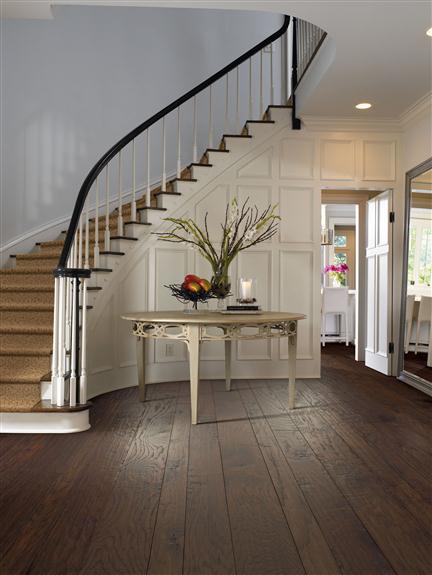 You cannot deny the classic beauty of hardwood flooring in Cincinnati, OH. Elegant and easy to maintain, solid hardwood flooring continues to be the preferred floor covering for homes and businesses. Buddy's Flooring America wants to bring this timeless look to your property with our wide selection of hardwood brands and installation services.
Nothing delivers that one-of-a-kind warmth and style to a room like hardwood flooring. Packed with character, these floors give you a long-lasting appeal that is well worth the investment. Reach out to us to learn more about all of the different wood species we offer from such trusted manufacturers as Mohawk, Shaw, and Floorcraft.
Choosing Engineered Hardwood Flooring
Just when you thought hardwood flooring couldn't get any better, let us introduce you to engineered hardwood. Using state-of-the-art technology, this new and improved hardwood features all of the look and feeling you love from typical solid wood but is designed to be easier to maintain and more durable, especially when confronted with humidity.
Engineered hardwood and solid hardwood both have their distinct advantages, and our team will gladly discuss them with you. We know that once you get a look at the different options available to you, you are going to fall in love with your selection.
Available in a variety of different color schemes and patterns, our solid and engineered hardwood flooring allows you to add that special charm to any room in your home. There are virtually limitless customization options with hardwood flooring, and since it can be refinished and stained over and over again for many years, you won't have to worry about needing to replace anything until you are ready.
Professional Hardwood Flooring Installation
Want to get the most value out of your new hardwood floors? Then you are going to want to make sure they are professionally installed by our trained technicians. We know how to properly install your new flooring so that it looks stunning and delivers many years of performance. When properly installed, your new hardwood floors will add better aesthetics and acoustics and increase the overall value of your home.
Speak to our helpful staff to narrow down your search to find the right type of hardwood flooring to meet your specific needs. We take great pride in helping our customers know they made the best choice when upgrading the flooring in their home or business.

Contact us to learn more about the classic elegance that comes with solid and engineered wood flooring. Our flooring products and services are perfect for customers located throughout the Cincinnati, Ohio, area, including Norwood, Oakley, Deer Park, and Amberly.