Laminate Flooring in Cincinnati, OH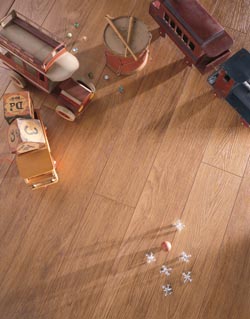 Laminate tile flooring used to be considered more of a utility floor or something to put in a mudroom--not something to show off. Advancements in manufacturing technology, however, have changed this. Laminate now isn't just one of the most durable flooring options on the market, but it is also one of the most attractive and versatile as well. Visit Buddy's Flooring America for quality selections of laminate flooring in Cincinnati, OH.
Built strong, laminate tile flooring is eight times harder than hardwood but can be made to deliver the same look you expect from that natural flooring option. These are floors that are made to last thanks to their tough external layer and resin coating. Whether you need something for the high traffic areas in your home or just want to have something that is just as attractive as it is strong, laminate is the right option for you.
Strong, Beautiful, & Built to Last
Do you want that hardwood look, but don't want that hardwood price? Then it is time for you to start exploring our wide selection of laminate wood flooring. These floors come in a variety of different colors, surface treatments, thicknesses, and styles. This makes it easy for you to find the right match for your space, no matter the look of your décor.
Furthermore, laminate floors are very easy to clean and maintain. You won't need any special tools or cleaners to get your floor looking like it did the day you installed it again. Just sweep on a regular basis and you are going to have a beautiful floor that will continue to look great for many years to come. Additionally, since there is no place to trap dust or particles, this is a flooring option that is great for individuals with allergies.
Professional Laminate Flooring Installation
Installing laminate correctly isn't a hard job, but it is still something that should be left to professionals. With the help of our laminate flooring installation team, you can ensure everything is installed correctly to create a water-tight seal for your floor. This improves the overall durability of your laminate so that it is even more resilient.



Contact us when you are interested in learning more about what our laminate flooring can do for you. Laminate floors are a perfect option for clients located throughout the Cincinnati, Ohio, area, including Norwood, Oakley, Deer Park, and Amberly.