Laminate Flooring in Cincinnati, OH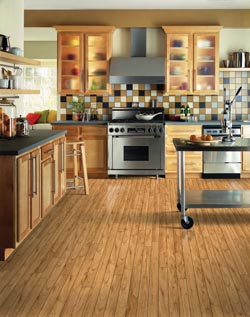 Need to remodel your home design by replacing your old flooring? Rip out that trampled carpeting and upgrade to refined and sleek laminate flooring in Cincinnati. Buddy's Flooring America sells a comprehensive assortment of laminate wood and tile flooring in a wide range of sizes and styles that mimic the texture and appearance of real stone tile and hardwood. Choose from materials that look just like slate tile or the top-selling species of wood, such as maple, oak, walnut and cherry.



How Laminate Flooring is Made
Laminate flooring is one of the most high-tech floor materials available at Buddy's Flooring America. It is made by fusing multiple layers of many materials together to develop a strong and resilient board. The base layer is made from compacted wood chips to create a stable foundation. The core layer rests atop the first layer and is made of impenetrable fiberboard that bears the weight and stress of foot traffic in the most-trafficked areas of your house. A decorative layer is affixed over the core that mimics the appearance of tile or wood. The final layer is finished with several coats of aluminum oxide, which has a clear finish so that the decorative layer shines through but is protected from dents, scratches and stains.

Learn More
Do you have an inquiry about laminate floors or want to learn more about our installation services and warranties? Call our showroom now at <PHONE> to speak with a friendly sales professional!

We proudly serve the communities of Cincinnati, Northern Kentucky, Florence (Kentucky), Fairfield, West Chester, Harrison, Mason, Blue Ash, Bridgetown, Anderson Township, Hamilton and Lawrenceburg (Indiana).