Exquisite Tile Flooring in Cincinnati, OH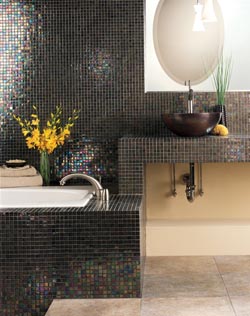 Give your home a beautiful and unique upgrade with tile flooring in Cincinnati, OH. At Buddy's Flooring America, we carry tile of all sizes, shapes, and materials to meet your design needs and preferences.
As a resilient surface solution, tile has been a top choice for centuries and remains a popular option for many property owners. This popularity is thanks to the tile being simple to maintain while looking astonishing in any room. Additionally, because tile is moisture resistant, it is a superb choice for humid spaces such as kitchens or bathrooms.


A Natural Flooring Option
When you are trying to choose a flooring option that is both natural and resilient; our tile store has you covered. From the majestic look of slate and stone to the polished appearance of porcelain and ceramic, there is an option that is ideal for your home.
If you are worried about the appearance of your new floor fading over time, then rest comfortably with a tile surface. These floors easily stand up to the comings and goings of your busy household thanks to being both stain and scratch-resistant. This resilience ensures that your surfaces keep their appearance for many years.


Limitless Design Potential
Since tile is available in so many shapes, patterns, colors, and materials, the design possibilities for your home are limitless. From the complex patterns and colors of ceramic tile to the natural and traditional look of stone, your new surface's design is only restricted by your imagination.
If you are unsure of what aesthetic you are trying to achieve or what materials would work best in your space, then our designers are here to help. Our knowledgeable staff are tile experts and work with you to find the right options to upgrade and improve your home. Visit our showroom to discuss your renovation goals with our team, and let us help you find the ideal flooring solution for your property.


Tile Flooring Installation by Experienced Professionals
When you invest in new floors for your home, let our team handle the installation. The task of correctly installing tile is difficult to work, requiring proper preparation and equipment. All of our installers have experience handling the surfaces we offer and will ensure that your new floor looks as stunning in your home as it did in our showroom. So whether you have chosen to install stone, ceramic, or porcelain tile, trust our team to take care of the job.

Contact us when you are looking for beautiful tile flooring options for your home renovation project. We proudly serve Cincinnati, OH, and the surrounding areas.